Experience the heights of The Blackpool Tower Eye with its breath-taking SkyWalk and see if your students can brave the glass floor 380 feet in the air. Before you head up in the lift, visit the 4D cinema and learn all about the history of Blackpool and its infamous Tower.
Built in 1894, The Blackpool Tower is one of the most iconic buildings in the UK and one of Britain's best-loved landmarks. A trip to the top can be used in the classroom for history lessons, geography, and even spark imagination for storytelling in English and Drama.
Before you head up in the lift, visit the 4D cinema and see a short exiting film about the history and heritage of Blackpool and its infamous Tower, compete with 3D imagery and 4D effects, including bubbles and rain!
The top of the tower has 3 viewing heights, one indoors and 2 outdoors. There are touch screens situated around the indoor level pointing out landmarks in every direction.
Launching soon for 2023 visits: new lesson plans for teachers including activities and worksheets that can be used during the visit to aid learning opportunities. Lesson plans for during and post visit activities will be provided to teachers upon booking. These are designed for KS2 learning and can be adapted to KS1.
There are also some extra lesson plans available to download from the website for all teachers to use alongside their visit.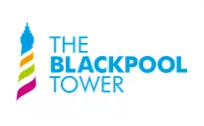 Combine your visit to The Blackpool Tower Eye with one of the other fabulous Merlin attractions such as:
Madame Tussauds Blackpool 
SEA LIFE Blackpool
Blackpool Tower Dungeon
Blackpool Tower Ballroom
Blackpool Tower Circus
Peter Rabbit Explore & Play Blackpool
Accessibility
Disabled Access, Disabled Toilets, Facilities for Hearing Impaired, Facilities for Visually Impaired, Guide Dogs Welcome,
Groups
Pre visit Available, Risk Assessment Available,
Attraction
Cafe, Shop, Toilets,
Other
01253 375180
Opening Hours
Opening hours vary, please check our website for up-to-date information. On weekdays in term-time school bookings can generally be made for 9.30 to 4pm.
Pricing
School group Bookings: November to March: £6.00 per pupil, April to October: £7.95 per pupil
Free teacher places – One free teacher for every 3 pre school children/One free teacher for every 5 primary school children/Once free teacher for every 10 secondary / college pupils
Address
Is your Attraction or Museum missing from our website?
Contact us today and let's get you listed! 01677 427334
Newsletter

Signup!

Stay up to date with all the latest news and upcoming events in your area!