York Residential Trip for Castleton Primary School
A school trip to York, Castleton Primary School was a great success and enjoyed but both students and teachers.  There is so much to see and do that it is hard what to leave out. It was fantastic how we as teachers could focus on having a good time and not on the hassle of organising all the sessions! Thanks you so much for organising our trip, it was fantastic!
Melanie Brammer, Castleton Primary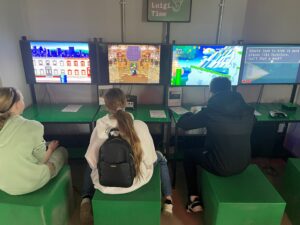 THE NATIONAL VIDEOGAME MUSEUM – GREAT ON SO MANY LEVELS The Educational Visits UK Team had an opportunity to visit the National Videogame Museum in Sheffield during the February Half term and certainly didn't need 'consoleing' afterwards!  The age group of our team varied between 11 and 54 and it was fascinating to see…
Bedford School Trip To York Thank you so much for our fantastic weekend. We can't believe how wonderfully everything went. York Minster was an outstanding and truly awesome experience. All our students were moved by the spiritual and cultural dimension that York Minster offers. We intend on returning to see the restoration of the key…
School Trip To Manchester Trip went really well. Coach driver was lovely and YHA was good. The children liked MOSI and particularly enjoyed the part where they could scan a card and it would take a photo/video and display it almost immediately. MUFC also a big success-dressing rooms visited, famous shirts and boots tried on!…
Newsletter

Signup!

Stay up to date with all the latest news and upcoming events in your area!