THE NATIONAL VIDEOGAME MUSEUM – SO GOOD ON SO MANY LEVELS
THE NATIONAL VIDEOGAME MUSEUM – SO GOOD ON SO MANY LEVELS
THE NATIONAL VIDEOGAME MUSEUM – SO GOOD ON SO MANY LEVELS
The Educational Visits UK Team had an opportunity to visit the National Videogame Museum in Sheffield during the February Half term and certainly didn't need 'consoleing' afterwards!  The age group of our team varied between 11 and 54 and it was fascinating to see which games and exhibits the children veered towards compared to the nostalgic oldest member.
The Museum started life in 2015 and was known as the National Videogame Arcade before relocating from Nottingham to Sheffield in 2018 with the new name National Videogame Museum (NVM). Easily accessible, the NVM is open Wednesday-Sunday in term time and every day during the holidays.  It is located in Castle House and the museum is set out on one vast floor with over 100 games available to play.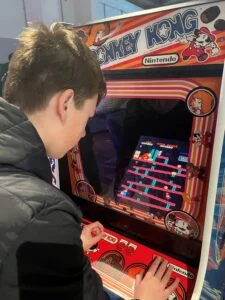 Learning and engagement are very much on the agenda at the NVM and navigating around the museum is like going on a journey through the evolution of gaming.  Computing, Art & Design and Design & Technology aimed at KS2-4 are prevalent from the award-winning Workshops that are on offer to schools and the extremely knowledgeable Learning Officer, Leah, can offer bespoke packages to meet most school's learning requirements. Schools should expect to spend approx. 2.5hrs on a visit broken down as a 1 hour workshop and 1.30min 'play time' in the arcade galleries.  Self-led visits are also available and larger groups can be split.
THE NATIONAL VIDEOGAME MUSEUM – SO GOOD ON SO MANY LEVELS
What makes the NVM such a fascinating place is that it is not just about playing the games.  The museum educates at every turn demonstrating clearly through showcases and displays how the games are made and interestingly, who made them.   From 1980s Pacman through to modern day Xbox games via game coding, interactive exhibitions and a huge heap of nostalgia, the NVM is an excellent place to visit either as part of a school visit or during the holidays throughout the year.  It may also be the inspirational first step on a young person's career path into one the UK's fastest growing creative industry.
Photo credit – Charlotte Graham Photography Eden Camp Modern History Museum are thrilled to announce another exciting new project has been completed, working in partnership with Technically Creative! Following on from the success of the Blitz Experience launched in April 2022, Eden Camp have enhanced their museum once again with…
Is your Attraction or Museum missing from our website?
Contact us today and let's get you listed! 01677 427334
Newsletter

Signup!

Stay up to date with all the latest news and upcoming events in your area!